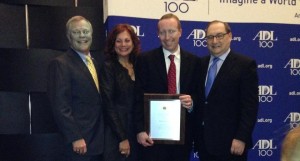 On November 1st, at the ADL National Commission Meeting, Regional Board member Rob Velevis became the first young leader from the North Texas/Oklahoma Regional office to receive the ADL Daniel R. Ginsberg Leadership Award. This award is conferred to outstanding individuals from around the country who demonstrate knowledge of, and working commitment to the policies and activities of ADL, as well as those who have the ability to add to the League's deliberations at the national level. The award, named in honor of the late Daniel R. Ginsberg, a former New York Regional Board Chairman and ADL National Commissioner, is generously endowed by his friends and family.
Rob graduated from our Regional Glass Leadership Institute in 2010; after which he joined the Regional Board. Rob regularly finds ways to help ADL bring resources to his firm and has also introduced many colleagues and friends to ADL; he is a terrific ADL leader and very deserving of this important ADL recognition.
Regional leaders Marcy C. Helfand, Executive Committee Chair, along with former Regional Chairs Lawrence Rosenbloom and Jay L. Tobin, were in attendance at the ADL National Commission meeting to see Rob receive this distinguished award.