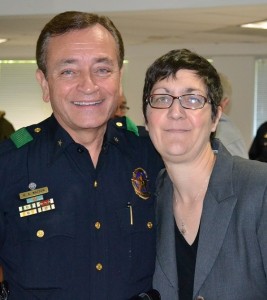 The ADL Regional Office was pleased to help coordinate a meeting between Dallas Police Department Deputy Chief Rick A. Watson, North Central Patrol Division, and Jewish communal professionals on October 17th. Chief Watson has recently taken over command of the North Central Patrol Division and asked ADL to help create an opportunity to enhance and increase relationships between his Patrol Division and Jewish organizations within the Patrol Division.
Professionals from multiple Jewish organizations attended a breakfast hosted by Chief Watson to meet him, meet Dallas Police Officers in the Patrol Division, as well as learn more about what they can do to help make security part of their institution's culture each and every day.
ADL applauds Chief Watson and the men and women under his command for their great efforts in community outreach and for all they do to keep our community safe.